In gambling, sometimes good guesses with a little beginner's luck can have you winning big. But what happens when the luck wears off? Too often, people keep throwing money on the table, just to realize their winnings have all dwindled away, with nothing to take home. Sadly, we see business owners in a similar situation when it comes to marketing. If your marketing strategy isn't working, stop throwing more money into it—underfunding is rarely the solution. Instead, analyze where your leads are coming from and use your findings to inform future efforts. If you don't know how people are finding your business, stop in your tracks.
Why is it important to track leads?
Marketing is vital to the success of most organizations and often consumes a large portion of the budget. If you're going through the motions to get your brand out there, your efforts are likely fall flat—or you may get a quick win that quickly fizzles out. Marketing is much more than posting on social media, printing business cards, and paying for ad space. In order to determine whether your efforts are paying off, you need to track where your new leads are coming from.
Tracking leads can help business owners assess the current marketing strategy, as well as identify areas for opportunity. Your business doesn't have to show up everywhere, making it important to understand where leads may be coming from organically, and to play off those opportunities rather than forcing marketing content where it simply does not perform. There is no need to pump marketing dollars into a strategy that is not paying off. Understanding where your leads are coming from and how they found you will go a long way to ensuring your marketing efforts aren't wasted.
How to track lead sources
The way you track lead sources will depend upon the primary place of residence for your online presence. If your business relies solely, or heavily, on a social media presence, you will certainly want to take advantage of the business analytics provided by each individual platform. Certain social media scheduling platforms, such as Hootsuite, make it easy to view social media data in aggregate. From the scheduler, you are able to track new likes/follows, engagement rates, clicks, and much more. Tracking these analytics can help to understand what kind of content is bringing in new leads and the best times to post.
If your business's marketing strategy uses email campaigns, your dashboard will have additional useful information. ActiveCampaign is our top pick for email marketing for many reasons, including detailed analytics. Users can easily run A/B tests on campaigns to understand what content attracts new leads. You can also use ActiveCampaign to identify lead sources who have signed up for your mailing lists from various sources.
For your website and general online presence, Google Analytics will be the best source for tracking just where your leads are coming from. Not only will you be able to track where your leads are coming from, but also how the lead found you, what they may have searched for to find you, and general demographics on your leads if available. The Google Analytics Sources report will show where traffic is coming from, including social media, email campaigns, organic search, paid ads, and referral sources. To use Google Analytics, you will need to register and link your business, and add tracking code to your website.
What marketing conversion metrics should businesses monitor?
In order to assess and improve your marketing strategy, there are many metrics to monitor on a regular basis. The right selection of key performance indicators will depend on your strategy, the channels you're using, and the stated business goals. Below are some top conversion metrics you should be monitoring to make the most of your marketing.
Inbound leads
Tracking inbound leads can help you to monitor and adjust your marketing efforts as needed. One of the first things we do in every marketing strategy is to ensure that inbound leads are being consistently captured—whether that's in a CRM, marketing platform, or some other internal system. It doesn't matter so much what system you use as long as you are actively tracking the number of leads coming in. Over time you can see seasonal trends and make better predictions about busy and quiet periods in the business.
Source
The source of your inbound leads refers to how each lead found your business. Common sources include social media, referral/word of mouth, organic web searches, paid advertising campaigns, or links from other websites. When you know the source of each lead, you can also begin to assess lead quality by source.
Tracking the source can prove to be very beneficial to new businesses or those that have been around for years and recently became serious about business growth. Knowing the source can help to create a marketing strategy altogether, identifying where the business is most relevant.
If you're finding that one source of inbound leads is generating very few leads, it may be time to adjust your strategy or eliminate your marketing efforts in that area. Note that leads are separate from traffic. A certain tactic may do a great job of generating a lot of interest in your business, but still fail to generate leads. Often when that happens, there's a mismatch between the target audience and the makeup of the traffic.
Method
The method of your inbound leads refers to the way the lead initially reached out. Common methods include email, call-in, walk-in, or a website form. When you have multiple forms on your website with various calls to action, you gain another data point to help you assess what's working. Monitoring the method can also help you troubleshoot problems—for example, if you get a sudden drop in website leads, make sure your contact form isn't broken or sending leads to an unmonitored inbox.
---
Without a core marketing strategy that includes regular analysis of performance, it's easy to fall into the trap of marketing in circles and ultimately losing money. If you're ready to get serious about business growth, it's time to get serious about your strategy. We would love to have a conversation about your business goals, what you've tried or haven't tried in the past, and what it will take to get the results you're targeting. Our team regularly monitors those efforts, evaluating the strategy as needed to ensure your marketing budget is put to good use. Contact us to schedule a consultation.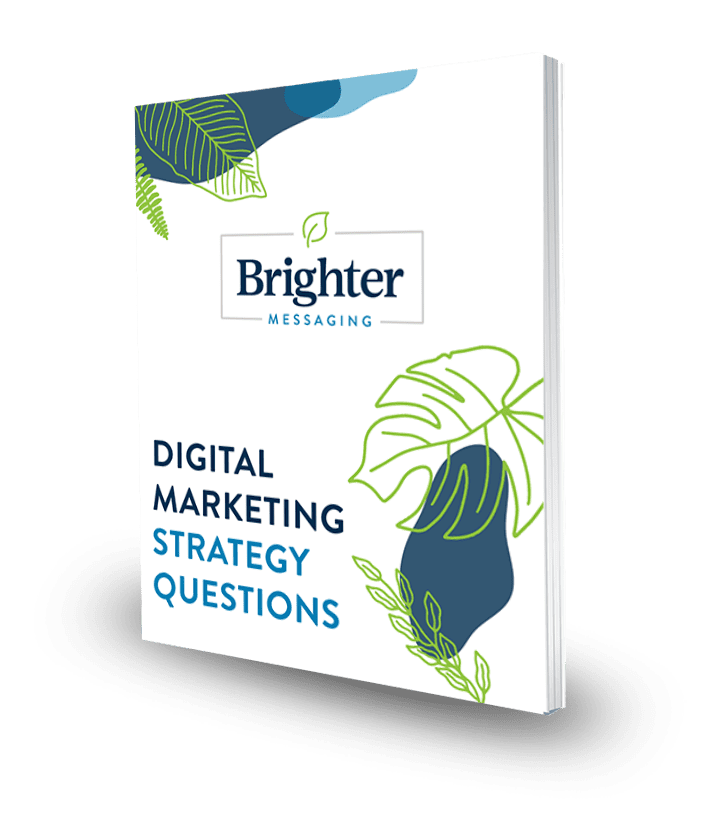 Digital marketing efforts not yielding the results you want? 
Use our Digital Marketing Strategy Questions to help you develop a strategic plan to reach and engage your audience online.