Whether it's downloading a piece of content, requesting a demo, or starting a free trial, visitors who don't click don't convert. Enter the call to action (CTA), which helps determine and direct your audience on your website, email campaigns, digital advertising, and social media.
What is a call to action?
A call to action (CTA) is marketing jargon-speak for a button or link that prompts readers to click and take a particular action. In the image below from our home page, the 'LEARN MORE' and 'REQUEST A CONSULTATION' buttons are CTAs: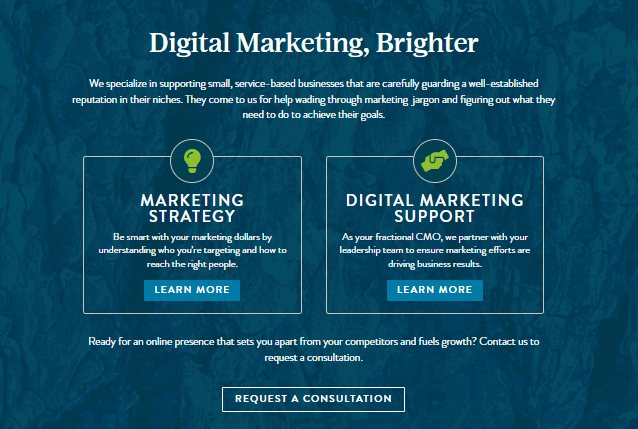 Notice how the CTAs are designed to draw the eye, helping the user to understand where to go next and how to interact with the site while exploring content.
The power of an effective CTA button
Calls to action have three core functions:
1. A CTA guides your user through the desired website journey
CTAs are your sales funnel's best friend, helping your user transition between the phases of the buyer's journey. Looking at the example from the Brighter Messaging website, users who visit the homepage might have done their research and know what they want immediately (they're ready to 'REQUEST A CONSULTATION'); others will need to 'LEARN MORE' about the different service offerings (Marketing Strategy or Digital Marketing Support).
If they click to learn more about Digital Marketing Support, for example, they're presented with more information about the service so that they're better equipped to take the next step (requesting a consultation):
2. A CTA gets them to take an action
A well-placed CTA helps users understand what to do next and prompts them to take immediate action. The easier you make it for your user to take the next step, the more likely they are to do so. By presenting users with an eye-catching button guiding them to the next phase of the buying process, you've eliminated the guesswork and created a better user experience.
3. CTAs work together to improve overall conversion rates
The key to effective digital content and advertising is grabbing the attention of your target customers, educating them about how your product or service solves their problem, and then encouraging them to become a customer. A CTA is your chance to seal the deal! It emphasizes the power of the preceding copy and acts as the final hook to get customers to take the next step and turn into a lead.
Best practices for CTAs that convert
Use precise, action-oriented text
Make CTA button text large and legible (big enough to draw attention but not so large as to be obnoxious or overly cluttered)
Button design should be eye-catching and clean
Keep the copy short (ideally two to three words)
Use the first person where applicable (e.g. "Get my free download" vs "Get your free download")
Create a sense of urgency by adding words like "now," "today only," or "limited time"
Place the CTA in the right spot to make an impact on your visitors
Position your button after clearly explaining your offer
Script the copy on your CTA button to highlight the benefits of taking action
How to stay out of the spam folder with email CTAs
Using trigger words in your emails could land you in the dreaded spam folder. Even though some of the words listed below may work on your ads and landing pages, they're best avoided in email CTAs:
Free
Act now
Urgent
Do it today
Don't hesitate
Click now
Order now
Buy direct
Call now
Limited time
Act now
If you do need to use these words in your email CTAs, be sure to support them with actual value. For example, instead of "Call now", you could use "Call now to learn about our demo mode."
Give your users what they want
Your visitor has read (or at least scanned your content); they've engaged with your brand; their interest is piqued. Now, whether they know it or not, they need and expect you to tell them what to do next. The right CTA at the right moment can push a website visitor or email reader exactly where you want them to go. Neglecting to add a CTA, on the other hand, can confuse your prospect and cause them to drop off the sales funnel. Buyers are conditioned to seek out and use CTAs, so facilitate a smooth buying process by giving them what they want.
Need help creating calls to action that create customers?
Take the guesswork out of your marketing efforts by letting the experienced Brighter Messaging team provide ongoing digital marketing support to help you achieve your online goals.
[CTA Button] REQUEST A FREE CONSULTATION TODAY
(See what we did there?)