Diving into the depths of digital marketing can sometimes feel like you've brought a snorkel to a scuba dive. As a small business owner, you may feel completely out of your depth and unsure where to begin. First, don't worry—this is normal. Not every small business owner has a marketing degree and years of experience under their belt. Second, fear not! Use this digital marketing checklist for small business to help you navigate (and make the most of) the powerful online world.
1. Create a strong brand identity
Who are you? And who is your brand? Your brand is the heart and soul of your business, from the way you present yourself to what you stand for. Your brand's value proposition is what sets you apart in a crowded marketplace. Start by defining a mission, values, and unique selling points (USPs) that are authentic to you and resonate with your audience. Continue to Point 2 for some guidance in doing just that.
2. Define your digital marketing strategy
Any business that promotes itself online should have a solid digital marketing strategy. In fact, marketing teams that document their strategy are 313% more likely to report success than those that don't.
A marketing strategy will help you:
Define your audience and unique value proposition
Evaluate your marketing tech stack
Understand who you're talking to with your content
Highlight your strengths and differentiators
Consider the tools you actually need
We've written 13 key questions to get you the answers to all of the above. Download our free Digital Marketing Strategy Questions to get started.
3. Build a website
How do you research a company, product, or service? We're willing to bet that 99.9% of the time, the process involves visiting a website. Your website is your digital storefront and the foundation of your digital marketing strategy, and it's often your customers' first impression of your brand, too.
Having a professional website isn't a maybe; it's a must. Your website is where you will direct online traffic, convert leads, and provide useful information about your business, so make sure it's visually appealing, user-friendly, optimized for SEO, and mobile responsive.
If you don't have a website yet, check out our Digital Marketing Starter Package, which essentially allows you to pay off your website over 18 months, even though it will go live in Month 3.
You may also be interested in: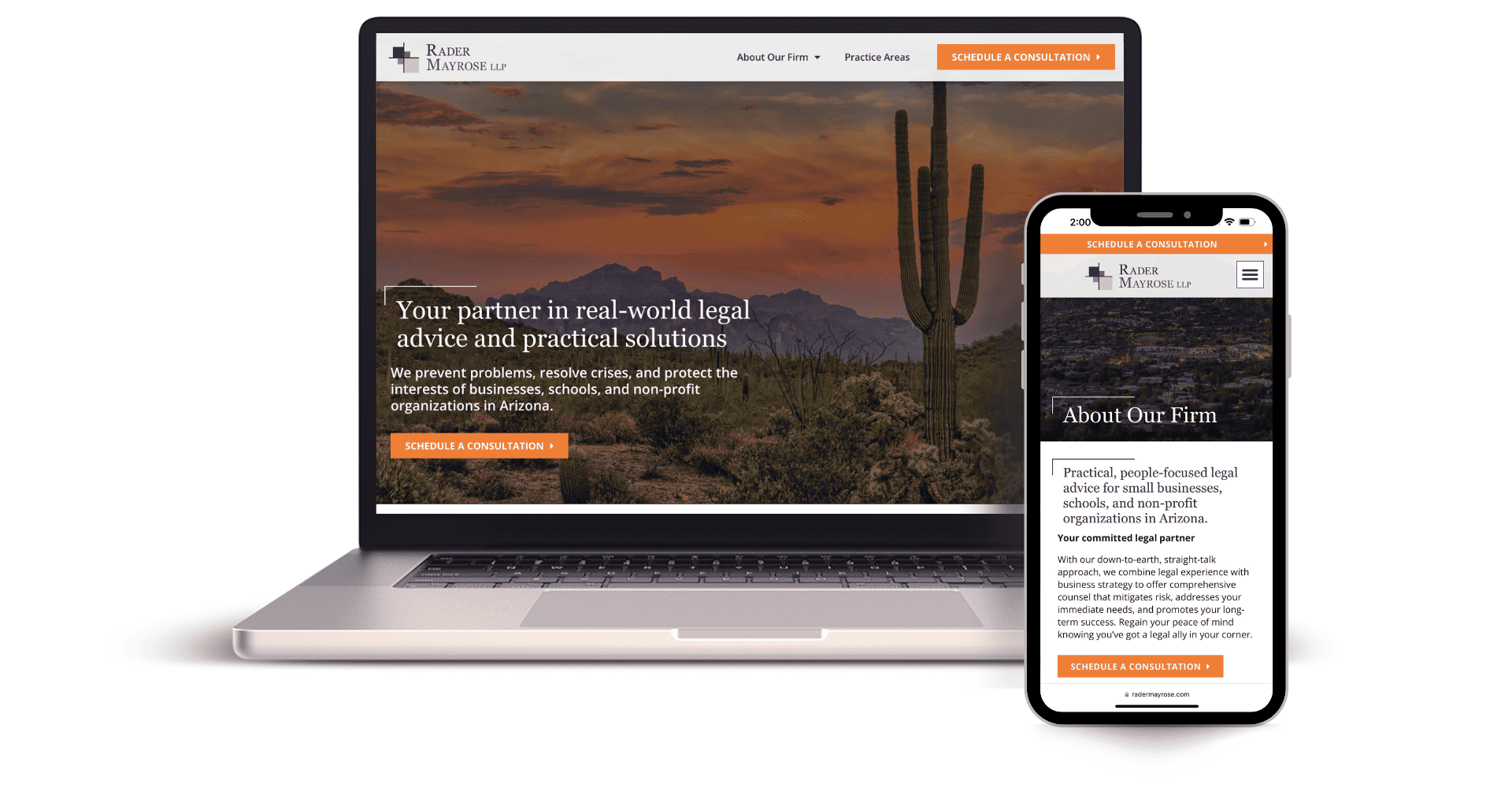 Check out this website we recently created for attorneys Deanna Rader and Jamie Mayrose.
4. Establish a social media presence
Let's go back to that company research you were doing earlier. After visiting the brand's website, your next port of call could be that business' social media accounts. The benefits of social media for small businesses are numerous—it amplifies visibility, drives traffic, and fosters genuine relationships with both current and potential customers, all without breaking the bank. But all these benefits come with a crucial caveat: the key to success is understanding each platform's strengths and aligning them with your content. You should only choose the platform/s where you know your target audience hangs out AND make sure that you have the time/ expertise/budget to actively manage them.
You may also be interested in: 5 considerations when establishing a business social media presence.
I can't stress this enough: one of the biggest mistakes we see small businesses making when it comes to social media is trying to be everywhere. Keeping up with a bunch of platforms inevitably becomes too big of a job to handle, and so the overall social media presence ends up being subpar. We advise businesses to carefully identify the platforms where their target customers go for information and put all of their efforts into doing a great job there. Put another way—just because you can jump into Threads or Tik Tok doesn't mean you should.
5. Hit GO on your SEO
Search engine optimization (SEO) might sound scary, but it's actually more straightforward than you may think: Google (and other search engines) want signals that your website is relevant, high-quality, and worth serving up in the search results. The first step to achieving this is making sure that your website is working hard for you by including some simple SEO best practices.
Check out our free eBook that includes 5 things your small business can do right now to improve SEO.
You may also be interested in:
6. Set up email marketing
Even though it's been around for a while, email is still alive and effective, so don't underestimate it! It's also one of the cheapest ways to reach people. Another major benefit is the ability to organize your contact data by segment, allowing you to send more accurately targeted messages for maximum impact.
Not sure what to send? Just like your blog (and any marketing activity), email marketing is most effective when you focus on your audience's wants, needs, concerns, and questions.
Here are a few types of emails you can send, depending on your audience and offering:
A regular newsletter with top posts from your blog
A promotional email with discounts or special offerings on your product
Product updates or company announcements
Something useful to the reader, like a quick tip or how-to
You may also be interested in: 5 ideas for effective email marketing content
While you're here, do you want to sign up for Brighter Messaging's monthly newsletter? We share small business marketing insights, SEO tips, strategies to help you get your business in front of the right people, and free digital downloads.
Here's an excerpt from one of our recent newsletters: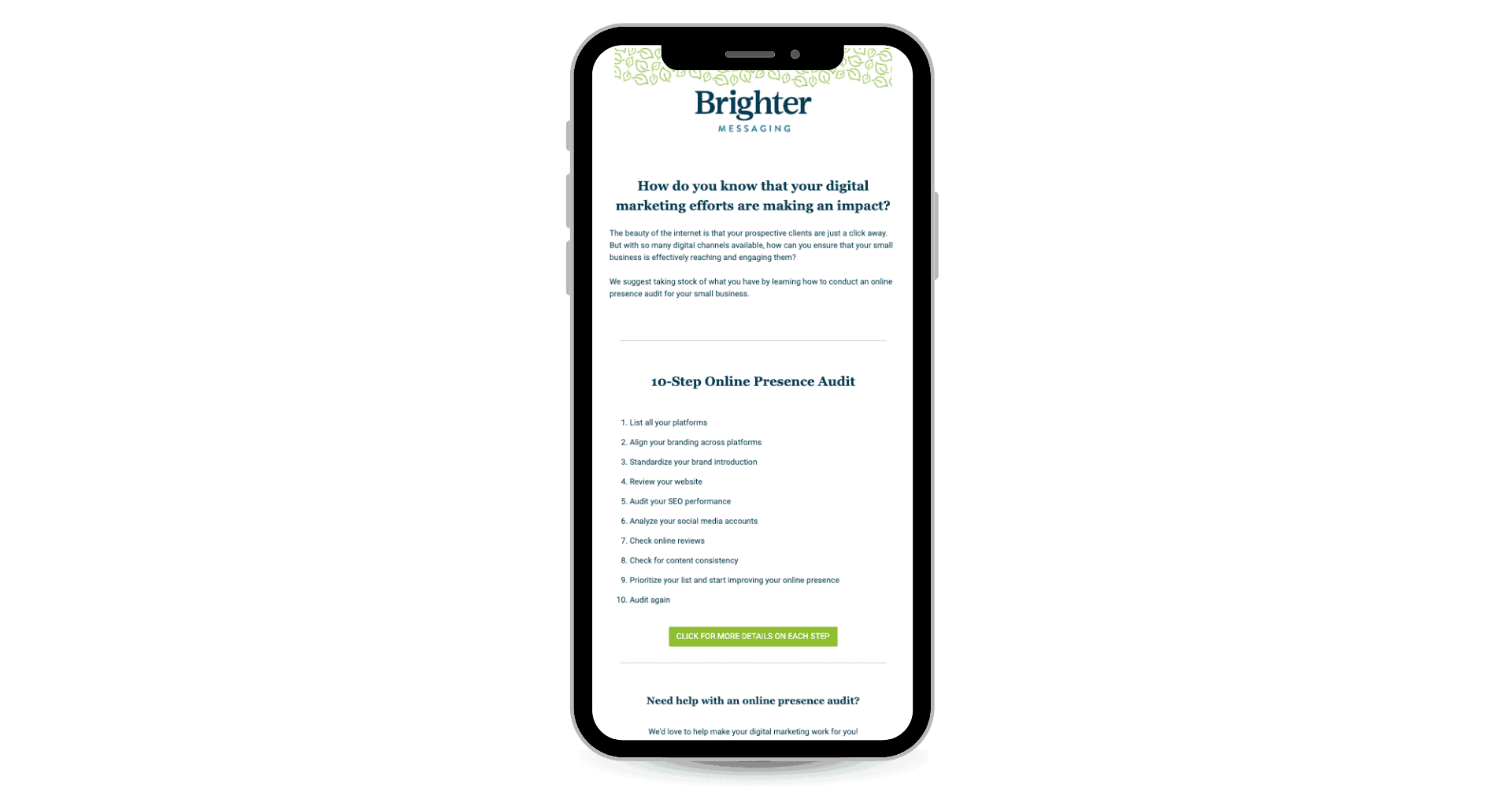 7. Showcase your expertise in a blog
Blogging is your opportunity to showcase your expertise, connect with your audience, and improve SEO. Create a content calendar, publish consistently, and cover topics that your customers are searching for.
Here are some quick tips for better business blogging:
Focus on posting consistently: set a regular publishing schedule so your readers can expect and anticipate new posts.
Remember, quality over quantity!
Still figuring out what to write about? Ask your customer-facing staff about the most common questions or misconceptions they hear from customers.
For example, one of our client's blogs on deductible business meals and entertainment expenses has consistently performed well organically because it answers crucial questions that many people ask, such as:
Are business meals deductible?
What business meals are tax deductible?
What percentage of business meals are deductible?
The below blog consistently receives thousands of visitors per month: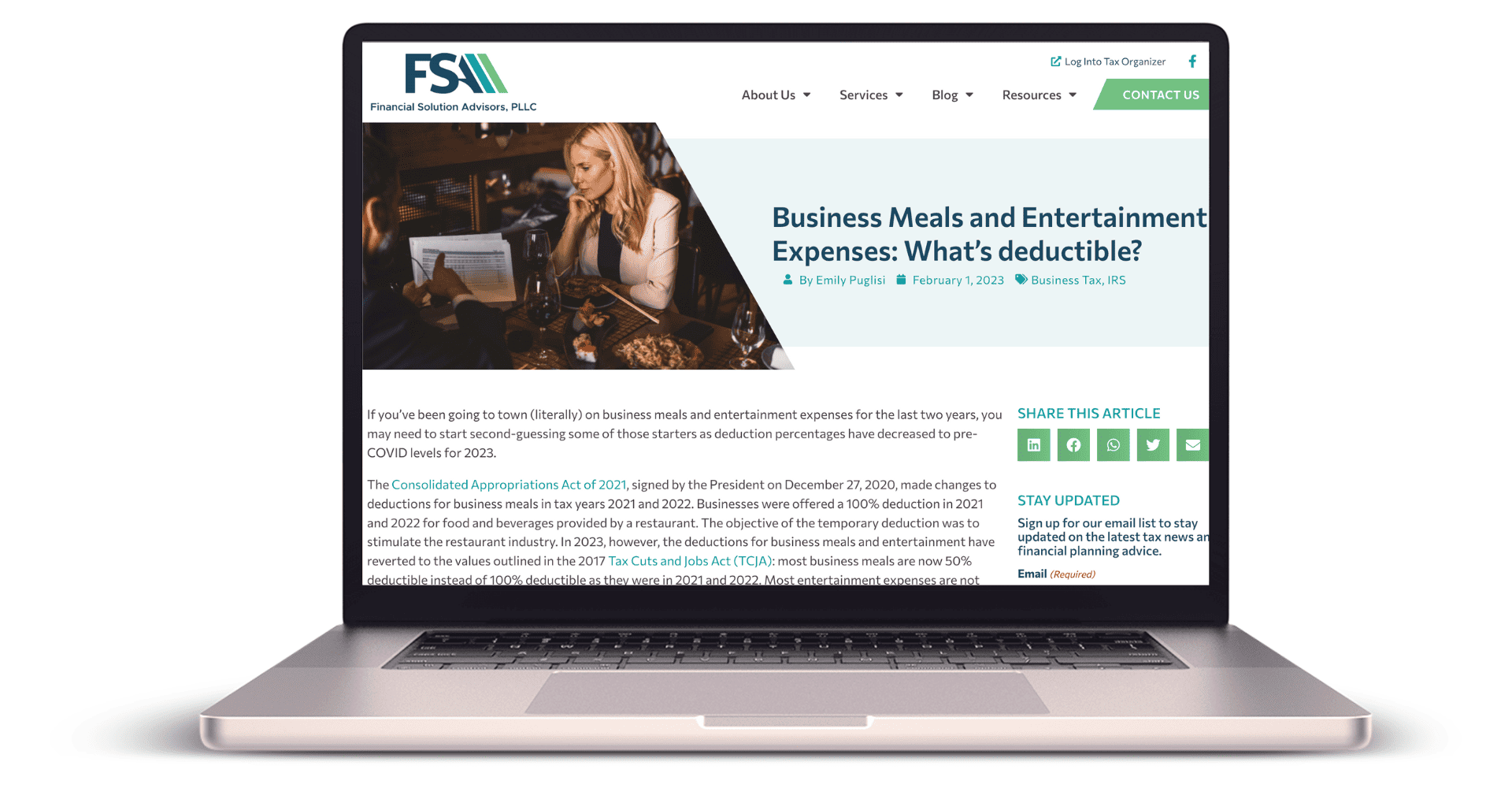 You may also be interested in: 1 Blog; 4,000 Visits Per Month: The benefits of blogging for small businesses
Ready to dip your toe or dive straight in?
Our marketing checklist for small business will give you a good starting point to establish a solid online presence. Remember that, above all, good digital marketing means connecting with your audience, showcasing your unique value, and consistently delivering an exceptional experience.
Have questions or need more guidance? We help small businesses launch and maintain an effective and professional online presence, so please schedule a discovery call if you'd like some expert assistance.