How do you differentiate your brand from the multitude of competitors vying for your customers' attention? The answer lies in crafting a compelling value proposition that resonates with your target audience. But many businesses struggle with the value proposition because, all too often, the things they think make their business unique and valuable to the target customer are not actually the things their customers value. To put that another way—your value proposition isn't what you like best about your business. It's what your customers like best about working with you. It's not to say that what you like and what they like can't be aligned, but they're not necessarily the same by default.
What is a value proposition?
At its core, a value proposition is a clear statement that defines the unique problem your business solves better than anyone else in the market. Many established companies intuitively understand their value proposition but have yet to put it into words or ensure that it permeates every aspect of their business. If your value proposition isn't significantly different from your competitors' messaging, you may find yourself competing solely on price, which is often an undesirable position.
Quick tip: If you're wondering about your top competitor's value proposition, take a look at their home page. A well-designed website will feature the value proposition prominently, usually in the first, second, or third module of the page. Here's an example from a website we built for Best Fence & Rail of Florida:

Notice how this section tells you exactly what the company does (provide high-quality custom fencing), how they do it (exceptional service), and what the customer gets out of working with them (take the stress out of home improvement). This example goes a step further by highlighting the three key elements with icons, so even a website visitor quickly scanning the home page will notice them.
To articulate what makes your business unique and valuable to your target audience, you need to ask:
What core benefits do you offer?
How do you solve their pain points or create value for them?
Why should they choose you over your competitors?
Your value proposition should align with your vision and express how you deliver on it. It should also be clear, concise, and compelling so that your potential customers can easily understand and remember it.
Click here to learn more about the key components of a value proposition.
Your value proposition vs. your preferences
One common pitfall businesses encounter when crafting a value proposition is confusing it with their personal preferences and opinions. It's important to remember that your value proposition should align with what your customers value most about working with you. It might be your exceptional customer service or a unique approach to problem-solving, even if you think it should be your innovative product.
For example, one of our clients had developed some shiny new technology that they were (understandably) proud of. They wanted to make the tech the focus of all their marketing efforts, but it turned out that their clients are less interested in the tech itself, and more invested in the experience and expertise of the people who deliver it. Their marketing messaging now speaks to the value of their people vs. their technology.
You may also be interested in: 3 reasons why everyone is not your customer
How to learn what your customers love to create a value proposition they can't resist
To create a value proposition that truly resonates with your prospective customers, follow these steps:
Speak with different team members, from customer service reps to marketing specialists and salespeople, to help you fill in the gaps about what problems your customers are looking to solve by using your product or service.
Check out online reviews to see what your past customers are saying.
Send out a survey asking customers about their pain points and how your product/service solves them.
Ask your customers directly about how your product/service improves their lives and why they chose you over the competition.
Identify all the benefits your products offer, explain why each benefit matters to the customer, and connect this value to your buyer's problem.
Identify at least one thing that you do better than your competitors.
Once you've done your research, you'll be well on your way to understanding what makes your offering unique and attractive to your customers and will be better positioned to create a value proposition that sticks.
Are you ready to stand out to your target customers?
At Brighter Messaging, we believe that a well-defined value proposition is the cornerstone of your brand's success. We specialize in helping businesses like yours understand their target audience, articulate their value proposition, and implement their marketing efforts effectively. Contact us to learn more about our value proposition workshop, where we guide you through the process of translating your business's unique qualities into a compelling online presence.
Want to try a DIY value proposition?
Check out our guide to refining your target audience and crafting a value proposition, available as a free download.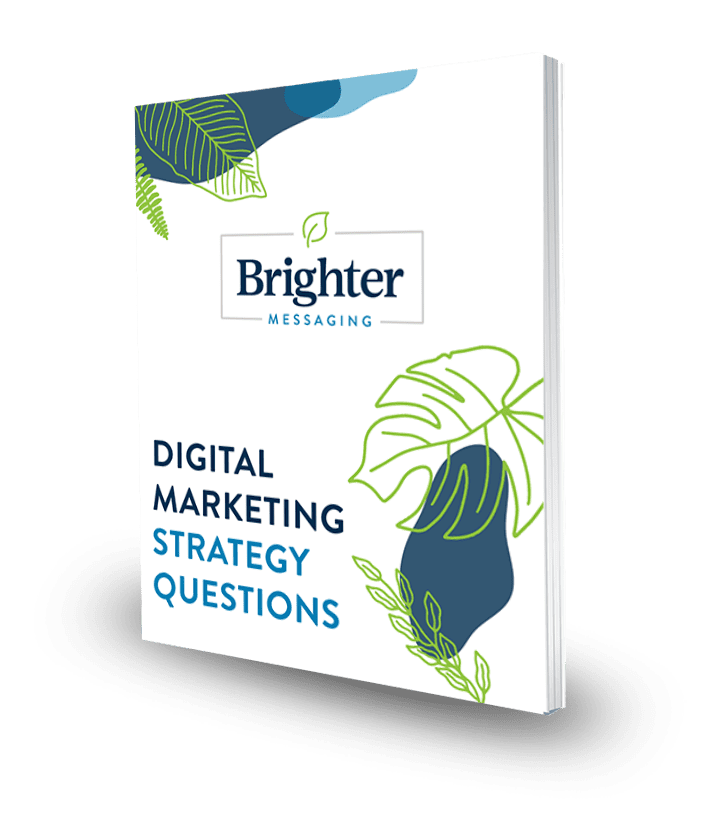 Digital marketing efforts not yielding the results you want? 
Use our Digital Marketing Strategy Questions to help you develop a strategic plan to reach and engage your audience online.