Having a clear vision at the outset of nearly any activity is an absolute game-changer, no matter what you're attempting. When the vision is clear, everyone involved becomes certain of what you're trying to accomplish, and you gain a strong filter to help you make decisions. Put another way, the vision clarifies the reasons why we do what we do—it's our purpose, our raison d'etre. Although a vision can evolve over time, it typically doesn't change without a significant and intentional pivot.
Many business owners have an intuitive sense of their business vision, but they haven't taken the time to codify and share it with the whole team. I recently went through this process for Brighter Messaging, and the outcome was both grounding and exhilarating.
But first: what does the business vision have to do with marketing?
Successful marketing rests on a clear business vision
Without a unifying vision, the disparate components of an organization can feel shaky. Business functions tend to figure out their own ways of doing things and frequently become siloed. Marketing is a function whose dependence on a clear vision is highly visible, due to marketing's management of a company's public face. When the business vision is clear, marketing's vision falls into place, and the marketing strategy is not far behind. Remember, a vision describes why we're doing what we're doing—whether you're training for an athletic event, fundraising for an important cause, or building a company, a clear purpose goes a long way toward successful outcomes. An inspiring vision is a goldmine for content marketing because it puts a purpose behind the product or service you're selling.
How I created a business vision for Brighter Messaging
Earlier this year, I went through the process of writing out the vision for Brighter Messaging. Embarking on the task felt like standing at the bottom of a mountain and gazing up at the peak. In fact, that's why I put off doing it for so long. It just felt hard. Once I got started, however, I realized that I had sown vision seeds a long time before and merely needed to coax their sprouts to blossom. That is, once I started writing, it flowed. The mountain wasn't really that tall after all. In fact, it was a joy to climb.
There are lots of ways to approach the visioning process. I'm going to outline here what worked for me. It's worth noting that this wasn't a solo process. I gleaned great insights from the book Traction by Geno Wickman and also got feedback from two executive coaches. Your visioning process may look quite different from mine, particularly if multiple business leaders are involved. The important thing is that we end up at the same place: with a clear and compelling vision for the business that can guide all operations and decisions.
1. Set goals and establish rules
I was able to kick-start my thinking by writing out my goals. I created three columns on a chart:
Company goals
Professional development goals for myself
Personal development goals for myself
Holding space to brainstorm personal and professional goals helped me to separate myself from the company. I set goals related to revenue, new clients, income streams, content development, building the team, and a few fun things. My personal goals were related to ongoing professional development opportunities, fitness, and recharging through self-care. Next, I looked at each goal to figure out how I would measure it. Some were more measurable than others. A real breakthrough moment came when I realized that some goals didn't belong on the goal chart at all—they were actually the rules of engagement for the business. As I established those rules, I gave each a clear definition so that the whole team could understand what they meant.
Here's an example of how my goals and rules worked together:
Goal: Add 3 new monthly marketing clients this year
Rule: Only work with good clients, defined by people who see value in our services, communicate well, understand tech basics, pay on time, and don't create a conflict of interest with current clients.
The goal is a short-term target to achieve by the end of the year. The rule is an ongoing guideline that we won't break, even if it means we don't achieve the goal. That's important to me because I'm not pursuing business growth at all costs—I want to grow slowly and sustainably, ensuring that we stay true to our purpose.
2. Create values
From the goals and rules, I was able to see the values of the business taking shape. I also found it helpful to have two sets of values: 1. external/client-facing values, and 2. internal/team-facing values. These flowed quite readily once I started writing them.
1. Brighter Messaging values: external/client-facing
Demystifying marketing for small business owners
Helping businesses understand and manage the various creative professionals needed for digital marketing
Data-driven/measurable success
Delivering marketing strategies that are integrated with the business
Building long-term, personal relationships with clients (we work best when we're fully integrated into your business)
We're reliable/dependable. We do what we say we'll do, when we said we'll do it, for the price we quoted. If anything veers off course, we'll communicate openly with you and work to fix it.
Stick to the fundamentals; not chasing fads/trends, not a partner for businesses looking for a short-term splash without a long-term strategy
2. Brighter Messaging values: internal/team-facing
Growing the business sustainably
Only saying yes to projects/clients that are a good fit, while also staying open to new opportunities that may push us to grow
Ongoing learning and professional development
Helping moms balance a creative career with family life
Promoting the creative talent on our team
Investing in tech that enables remote collaboration
The values have turned out to be incredibly helpful in two key ways so far. First, they function as guardrails for making decisions. Just as my life values guide my personal decisions, business values help to shape business decisions. Second, they remind me how I want to show up in the business. If a team member needs to bump a deadline because she has a sick baby, I don't have to question my next steps. One of our values is to support moms balancing a creative career with family life, and so we've set up systems that enable us all to support each other as needed while also continuing to be reliable and dependable to clients (another value).
It's worth noting that I'm not sure whether I could've created this value framework without years of experience providing digital marketing services and managing a team. Although the values feel comprehensive right now, I won't be surprised if we need to tweak them—likely in pursuit of the ongoing learning and professional development value.
3. Set the vision or purpose
As it turned out, I found it helpful to think of the vision in terms of purpose. Some leaders and coaches would probably argue this point with me, to which I'd respond that what works well for my business may not necessarily translate universally.
The Brighter Messaging Purpose is four-fold:
To help small business owners establish and manage their online presence in a way that's easy for them to understand and connected to their business goals.
To be a trusted advisor/partner/consultant that helps clients make business decisions as they relate to marketing and growth.
To provide opportunities for creative professionals to do their best work in the way that makes them most productive, profitable, and satisfied.
To support moms balancing a creative career with family life.
When you look at the purpose alongside the values, you can see how the values serve the purpose. Coming back to marketing, the majority of the client-facing values and purpose is summed up on our home page: We help businesses build an online presence that powers sustainable growth.
The result? I get to work with awesome people—both clients and the Brighter Messaging team—who are inspiring, who push me to keep growing, and who bring joy to my life.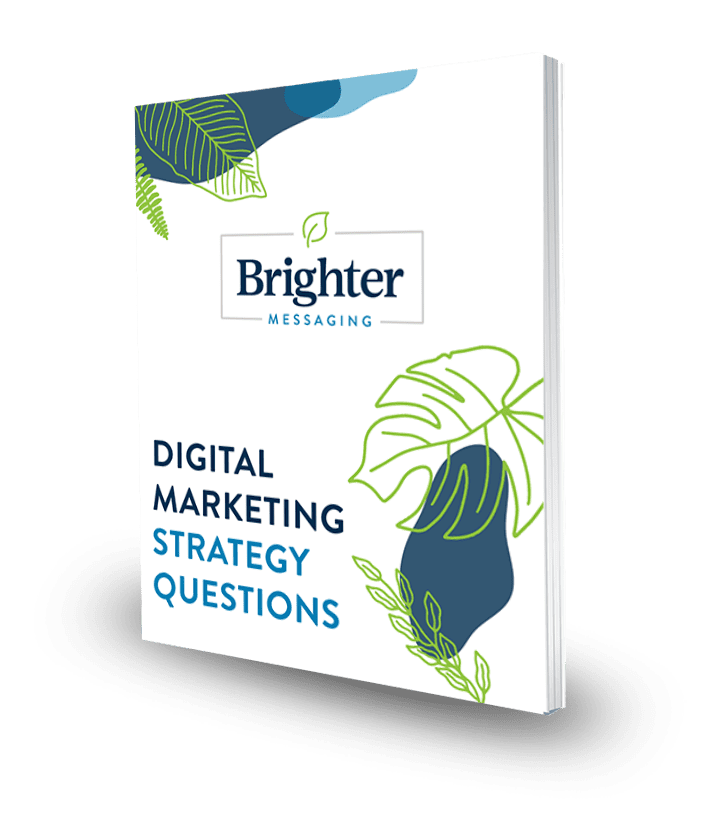 Digital marketing efforts not yielding the results you want? 
Use our Digital Marketing Strategy Questions to help you develop a strategic plan to reach and engage your audience online.