Search Engine Optimization (SEO) is generally not a 'quick hack' kind of process. That being said, there are easier ways of doing some things—take backlinking, for example. Gaining backlinks from other websites to your site (and thus improving your site's authority) can involve the dull and often disheartening task of reaching out to the owners of relevant sites. Or, it could involve finding places online where your brand is already mentioned and reaching out to ask for the mention to be linked to your site. Sure, both tactics involve a bit of work (and we suggest doing both as part of your overall SEO strategy), but if you're looking for a more streamlined way to start, sites that already mention your brand are the lower-hanging fruits. If you know how to find unlinked brand mentions, you've won half the battle.
Why bother with backlinks?
A backlink is simply a link from one website to yours. As we've covered in previous blog posts, search engines prioritize sites with high authority. One of the ways Google's algorithm detects authority is through backlinks. But remember, not all backlinks are created equal. You could get thousands of backlinks from spammy domains which could actually hurt your SEO. It's best to focus on getting quality links from high-authority sites in your niche or industry. These links give you good 'link juice' and may help improve your search engine rankings.
You may also be interested in: Is SEO worth it for small businesses?
What is an unlinked brand mention?
An unlinked brand mention is a reference to your brand online that does not anchor (send a link) to your website. To find unlinked brand mentions, start with a little searching.
How to find unlinked brand mentions
Search for relevant terms
Use Google or another search engine to find relevant and valuable mentions for your brand. For example, you can check events pages, articles, research reports, blog posts, and interviews to see where people have referenced your company and its resources online.
Relevant mentions to search for:
Your brand name
Your website URL
Names of your company's employees (especially high-profile people like your founder, leadership, or other prominent spokespeople)
Your proprietary trademarks, products, services, research, slogans, etc.—anything unique to your brand
Hashtags you've created or contributed to
Headlines or excerpts from content you've created
A common misspelling of your brand
Search tips
Use quotation marks to search for exact terms, e.g. "CEO Name", "Brand Name"
Use –site:yoursite.com to exclude search results from your own website
Set up a Google Alert
By setting up a free Google Alert for your brand name, you'll get an email when other blogs, news articles, or videos are talking about your company.
Check your links' no-follow/do-follow status
If you've found relevant mentions that DO have a link back to your site, it's important to check with it's a do-follow or a no-follow link:
| | | |
| --- | --- | --- |
| Link type | What is it? | Example code |
| Do-follow | Allows search engines to point back to the URL and send it link juice | <a href="https://example.com/" |
| No-follow | This tag tells search engines to ignore the link, therefore no 'link juice' for the URL | <a href="https://www.example.com/" rel="nofollow" |
How to check if a link is no-follow or do-follow
Hover over the hyperlinked text
Right click
Click on Inspect from the bottom of the menu
You'll see the linked URL highlighted in the website code
You can then look to see whether or not the code contains the rel="nofollow" tag
Below is an example of a do-follow link:

Check for unattributed reproduction of your images
People will occasionally embed your images on their site without linking back to the original source on your website. To find where this may have happened, you can search for any image using Google Lens: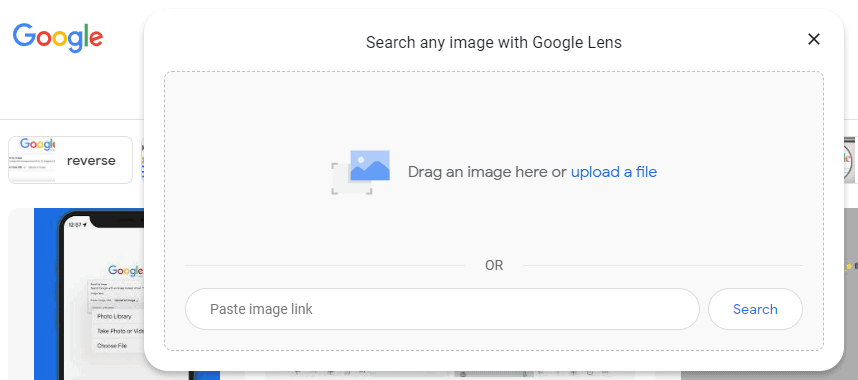 How to ask for a link to your site
Finding a mention of your brand online is Step 1; asking the publisher, site owner, or author to convert or add a do-follow link is Step 2.
Here are some general guidelines when reaching out:
Position adding the link as a win-win situation: it gives you a link and improves the user experience for their readers
Don't be pushy about adding links if the site already links to you multiple times on other pages
Don't request links unless they genuinely add value to the reader and your brand
Offer additional value by sending new or updated information that may benefit the content or pointing out an error (if they have to edit the post anyway, why not add the link you requested?)
Sample email template to ask for links
Hi (Name/ Site Owner/ Content Manager/ Website Manager),

(Your Name) here from (Your Company).

I'm reaching out on behalf of (Employee Name Mentioned), who you mentioned in your article here: (URL). Great article; thanks for the mention!

Here's an excerpt from that section: (Employee Name Mentioned) from (Your Company) said that claiming unlinked mentions is a good idea.

I was wondering if you would consider linking the word "(Your Company)" to (URL)?

I think this would help your visitors to find and learn more about (Your Company) should they wish to. Please let me know what you think.
Don't be disheartened if you don't get a positive result from every email you send. Bear in mind that you won't have a 100% success rate with any link-building tactic, including pursuing unlinked mentions. And if you'd rather leave the whole SEO thing to the experts, the team at Brighter Messaging are on hand to offer digital marketing support that gets your small business noticed in the search results. Click here to schedule a free consultation.